Vacation rental apartments in San Francisco
Book downtown vacation rental apartments, houses, and more on Airbnb
Top-rated apartments in San Francisco
Guests agree: these stays are highly rated for location, cleanliness, and more.
Entire rental unit
Civic Center
The Inn At The Opera has a guest rating of 4.1 out of 5 on Expedia. Please let me know what dates you are interested in & I will check on the availability with my timeshare company This is a hotel room/studio (~ 200 sq ft) with one queen size bed & is equipped with television, a nightstand with a lamp, a desk or round table with two chairs & a kitchenette. Kitchenette has a microwave oven, coffeemaker, refrigerator & flatware, glassware, and silverware for two. Max occupancy of 2.
Private room
Fishermans Wharf
Spacious Room in the heart of North Beach
A lovely room in a classic art-filled 4-bed Victorian flat in the heart of San Francisco's Bohemian neighborhood, North Beach, just a short walk to Fisherman's Wharf. You'll enjoy old world charm with modern conveniences: high ceilings w/ crown moldings, WiFi, a fully equipped kitchen, and laundry in the unit. Enjoy North Beach restaurants, bars, and nightlife, just a short hop from downtown. Available for 30-day minimum or longer guest stays.
Entire rental unit
Russian Hill
Beautiful Victorian 2 Bed 1 Bath w/ office & deck
If you ever wanted to live in SF, then this place is for you. Its quintessential SF, in a beautifully restored Victorian in the heart of Russian Hill. This is a newly renovated apartment with a wonderfully lush view overlooking the deck. Two spacious bedrooms with Tuft and Needle mattresses for extra comfort. Fully equipped and recently renovated kitchen with dishwasher, microwave, and a washer & dryer. Bedrooms are located at the back of the house for a quiet sleep.
Where to stay in San Francisco
Locals share their top neighborhood recommendations to help you find the one to call home for your trip.
Stay near San Francisco's top sights
Golden Gate Bridge
Bridge · 381 locals recommend
The bridge never gets old, even for longtime residents. It is spectacular, and is best experienced by bike. It's two miles long and takes 20 minutes to cross. For a great ride, rent a Mission Bicycle, take the Wiggle to Golden Gate Park, and then cross the Presidio to the bridge and ride into Sausalito. From Sausalito, catch the ferry back to SF. The western walkway is open to cyclists only, so you get across more quickly. Tourists tend to mob the eastern, pedestrian side. At night, the bridge is closed to pedestrians but not to cyclists. You push a button and an unseen guard buzzes you in.
Golden Gate Park
Park · 805 locals recommend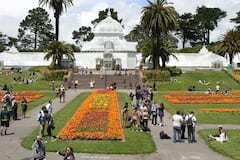 What to say? One of the great parks of the United States. Just head down the hill to Kezar Stadium (at the very bottom of Willard Street) and you'll see the GGP right beyond it (walk around Kezar to the west to enter the park). You can also enter on Stanyan and Haight (and at many other points). Enjoy the Academy of Sciences, de Young Museum, Japanese Tea Garden, Stow Lake, the Conservatory of Flowers (great night time light shows in the summer and winter) and many, many other features of the park.

Tips from San Francisco locals
Get advice about the city from the people who know it best. Local hosts share their tips and recommendations for travelers like you.
"Bring a jacket & layers San francisco is cold especially in june/july. please be prepared by bringing the layers. water & fog keeps san francisco cool most of the year."

Satish

Lives in San Francisco

"Always have some extra layers as sf can go from a sunny summer to a foggy winter in minutes. Wind breakers and scarfs sell well here..."

Kevin & Esther

Lives in San Francisco
What's the best way to get around

"Getting around takes time Even though sf is a small city, it takes time to get around. going 2 miles can take upto 40 minutes especially if you are taking the muni - budget that into your day plans for moving between places."

Vibha

Lives in San Francisco
What's the local culture like

"Don't leave luggage in your car (especially rental cars) when parking in sf. Car break-ins are a big problem in sf and tourists who leave their luggage in their cars are a prime target."

Yelena

Lives in San Francisco
Your guide to San Francisco
Surrounded on three sides by glittering water, punctuated by comically high hills, festooned with verdant public parks, and alternately enshrouded in mysterious fog and blazing sunshine, San Francisco is one of the prettiest places on earth. The city has long attracted iconoclasts and fortune seekers, in the shape of Gold Rush hopefuls, immigrants who fought to build thriving communities, and queer people seeking a home and civil rights. It's a city of glorious contrasts: storybook Victorians and soaring skyscrapers; the bright, pinging amusements of Fisherman's Wharf and the austere beauty of Ocean Beach. Like the rest of the Bay Area — which includes Oakland to the east, Marin to the north, and San Jose to the south — San Francisco continues to transform. But its scruffy, proudly independent roots are never far from the surface.
---
When is the best time to stay in a vacation rental in San Francisco?
San Francisco has a legendarily capricious climate — hot, sunny days can turn chilly on a dime, so no matter what time of year you book one of the city's vacation rentals, pack layers. March through June typically ushers in temperatures in the low-to-mid-60 degrees Fahrenheit. July through October is generally warmer, with temperatures in the high 60s or low 70s. Fall is often considered this city's summer. November through February is brisk, with temperatures dipping into the 50s. Expect some fog and wind year round.
---
What are the top things to do in San Francisco?
Golden Gate Park
Opened in 1870, this park's 1,017 acres are the undisputed jewel of the park system (and that's saying a lot). Visit close to 2,000 species of rare, tropical, and aquatic plants inside the stately Conservatory of Flowers. Explore an indoor rainforest at the California Academy of Sciences, and surround yourself with world-class art at the de Young Museum. Ride a carousel, paddle a boat around Stow Lake, or stroll through the Japanese Tea Garden. Just don't expect to do it all in one day.
Alcatraz
This tiny island in the bay, now a National Park, has a complicated and fascinating history. Best known as the home of an (almost) inescapable federal prison populated by notorious criminals, Alcatraz is also the site of a historically significant protest led by Native American activists, who occupied the island for nineteen months starting in 1969 to protest the US government's failure to surrender federal land owed to the tribes who once lived there. A trip to Alcatraz to learn about its many lives is well worth it. Tickets go fast, so plan ahead and book your voyage early.
Golden Gate Bridge
Completed in 1937, this gorgeous 1.7-mile-long Art Deco wonder is renowned for its hue — a color so distinct it has its own name: International Orange. Walking, biking, or driving are all wonderful ways to experience this architectural marvel, and on the Marin side you'll find a rest stop with bathrooms and breathtaking views of the bridge and bay. One thing to note: If you walk or bike, wear layers, as it can get very windy crossing the bridge.