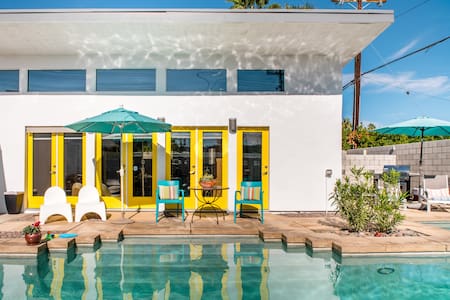 PLUS
Entire house · 2 guests · 1 bed · 1 bath
Relax Poolside at a Colorful Oasis with a Dreamy Desert Vibe
City ID#1837 Open the zesty yellow terrace doors and bring the outdoors in for a chilled breakfast at a vibrant, plant-filled hideaway. Hop on our bikes and take a leisurely tour through the neighborhood, then soak up the sun on a pool float with a homemade cocktail. Come to Palm Springs to experience the magic at the Dream Home!
What guests are saying:
"The Dream House is BURSTING with HAPPY vibes. Prepare to be transported to instant vacation mode the moment you arrive. You'll be met with a pad that is sparkling clean, teaming with everything you could ever need, and carefully curated to ensure the guests feel extremely welcome. To say Steven is a gracious host is an understatement. His energy and enthusiasm for creating a special stay is top notch. When life gets crazy, or when it's time to celebrate, or when we have a few days off till slate -we've found our new favorite getaway in the Dream Home."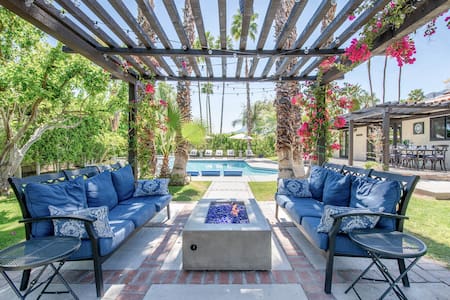 PLUS
Entire house · 8 guests · 4 beds · 3 baths
Stunning Resort Style Oasis Close to Downtown Palm Springs
Lounge around the private backyard pool surrounded by palm trees in this gorgeous home. Fire up the BBQ and dine under the lighted pergola, refresh in the marble-tiled shower, and sit around the warm brick fireplace in the open living area.# 949-697-3160
What guests are saying:
"This airbnb is absolutely incredible! We had the most special 2 days celebrating my husbands birthday. It has pretty much every amenity you could possibly hope for and is the most beautiful sanctuary to hang out in! The garden and pool area are just a dream! We walked around in awe when we first arrived! It's ideal to cook there as it has so many utensils and an awesome BBQ - we were so sad to only stay for 2 nights and could have easily stayed for much longer. The beds were also incredibly comfy and the place was the most spotless airbnb we've ever stayed in (and we've stayed in lots) We hired a private chef for the last night who kept commenting on what a wonderful kitchen it was to cook in! The ONLY thing I would change about our stay is we had a pest control guy and some gardeners turn up on both days we were staying - we read the house manual and it does state that gardeners come every Weds and pest control comes once a month, but it doesn't specify exact times. Both times we were sunbathing in the garden and not wearing many clothes when they walked straight into the backyard which felt a little intrusive and really made us jump! It would have been nice to be told ahead of checking in about this as we would have asked them to be rearranged for another time or day (we were only staying for 2 days so were just unlucky it coincided with both days) These were small inconveniences though and certainly didn't take away from the overall experience which was exceptional and we will remember forever. We would 100% love to come back and stay again in the future and would recommend this place to anyone coming to Palm Springs - it's like heaven on earth and you will not regret it!"
Newly renovated, the Ocotillo Retreat is a mid-century paradise recently listed on Airbnb. This 2,100 sqft 3 bedroom, 3 bath Meiselman home is exquisitely finished. The property is fully hedged and gated, providing absolute seclusion on this expansive 11,000sqft corner lot that is ideal for entertaining guests. The home is also featured in Airbnb's global print and digital marketing campaign for 2018.
What guests are saying:
"You will not be disappointed when staying at Ocotillo Retreat. It is really wonderful and so comfortable. This place is quintessential modern and perfect for anyone wanting to complete the whole Palm Springs vibe while visiting. The place is laid out perfectly with a completely private PS-style hedge around the entire property, beautifully remodeled throughout, with amazing high-style bathrooms (and one for each bedroom which was fantastic), a gorgeous kitchen that leads out to a covered patio area with those amazing recessed "indoor-outdoor" sliding glass doors for indulging in a special dinner al fresco (which we did!). The pool and backyard are laid out perfectly, complete with a cool fireplace pit which we used often. From the fireplace, the views of the famous mountain range was stunning. Highly recommend this place - and on top of all that - the host is top notch and very responsive and customer-service oriented. If you are hesitating about booking this home - hit that "reserve" button now! :-)"