The Bahamas is famous for its white sandy beaches and our unit is perfect, you have lots of it! It a few feet just outside your door. Love Beach is as beautiful as beaches get, with colorful turquoise water! Relax and enjoy the waters, or swim.
What guests are saying:
"This was our first Airbnb experience, and it was wonderful. Adam was quickly attentive to our every need, question, and request. The property was exactly as represented on the website, and the beach was nothing short of a tropical paradise. God willing, we will return without hesitation. I will only mention the following as an aid to anyone traveling with a physical disability. The bathrooms are not ADA compliant, but could be with the additions of a shower seat, handrails in the shower and commode areas. We were prepared because the photos were accurate, but no accessible equipment RENTAL facility was available on the island, (after some online research). So we had to travel with extra equipment, which was cumbersome but doable. Small improvements, such as ramps on curb and entrance areas, as well as a paved or a deck type walkway to the beach would make this beautiful property much more friendly to folks with physical challenges. Again, this is not a complaint but rather a heads up to my fellow travelers with accessible needs."
Cozy 1 bedroom with private entrance, large backyard and patio space all within walking distance to the beach and within five minutes of the airport and the island's famous tropical conch salad stand. Feel free to ask your host for exciting things to do like visiting Atlantis or Bahamar casinos all within a short drive from this beautiful space on the western side of the island.
What guests are saying:
"Anything else to complain about? Everything is so perfect! The rooms are large, very clean, homely, and only 2 km from Nassau Airport. Carla was very nice. We arrived at Nasssu airport at 10 o'clock in the evening. She drove us to pick us up. The plane to Pink Beach next day she took us to the airport at 6:45 in the morning and asked us if we should take us tonight Go elsewhere. This is a very good homestay and highly recommended! Thank you Carla, you made our trip to the Bahamas perfect! If I can come to the Bahamas in the future, I will still choose you! Thank you!"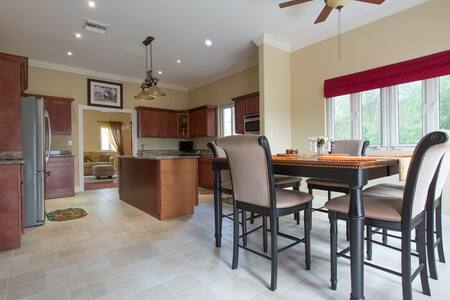 SUPERHOST
Entire cottage · 4 guests · 2 beds · 2 baths
Bahama Beauty-Book NOW and see why guests love us
Looking for a home away from home? Look no further! Our many 5-star reviews speak for themselves. Read and find out why guests fall in love with our familystyle hosting and our home. This modern and spacious 2 bed 2 bath cottage comes fully equipped with all amenities, has fast wifi, and is in a safe quiet gated community with 24 hour security. You are 5 minutes away from beautiful Love Beach, public transportation, food stores, childrens playgrounds, great local restaurants and night life.
What guests are saying:
"Avoid the resorts and stay in a beautiful house with everything you need (unless you love tiny hotel rooms, poor customer service, and like to be hustled at every corner)--we did both (Airbnb + Atlantis resort). Our stay was perfect, Mama Belle was waiting for us at the house to check in and explained everything we needed to know. The whole team was extremely communicative and available 24/7 to help, which saved us on several occasions. On cleanliness, I stay in a different AirBnb almost every couple of weeks, and this was by far the best cleaned. Most places do a quick surface clean between guests, but this house was actually clean enough for our son to crawl around on the floor. Location wise, you can walk to a great beach (Nirvana beach) within 10 minutes, or several other places a further 10 minutes east. Take a car 10 minutes West around the island to Jaws beach and Clifton state park for some nice snorkeling and family friendly beaches. There is a grocery store a 7 minute drive away (or a 17 minute run as I discovered on the first night). Everything is expensive on the island and mediocre quality: cars, taxis, groceries, hotels, signage, customer service, so just be prepared to spend $8 per pound for potatoes and $6.79 each + VAT for scallops, and you will have a happier stay. This house is one exception, so I hghly rcommend staying here."