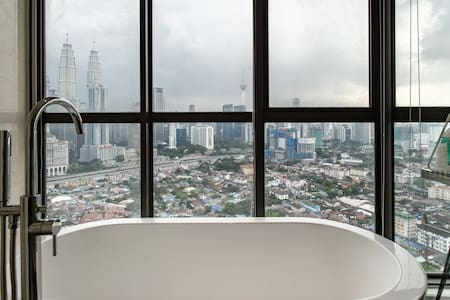 PLUS
Entire apartment · 2 guests · 1 bed · 1 bath
Luxe High-rise & Glass-Walled Retreat with City Skyline View
Step out onto the balcony and admire Kuala Lumpur's iconic skyline from this elegant 29th-floor retreat, then relax with a dip in the complex's infinity pool overlooking the city below. Warm wood and crisp, white decor create a cohesive look.
What guests are saying:
"Dear Ones, If you are looking for a very special retreat for a trip to Kuala Lumpur, you will find a place in this breathtaking apartment that is better than any hotel! The view is breathtaking, the safety standards are very high and the furnishing of the apartment was done with so much attention to detail that it simply radiates security and warmth! Simply perfect all round, very high quality and inviting! The perfect view of the skyline, together with the apartment itself and the wonderful contact with Latifah, it was really so wonderful that I actually didn't want to leave! The check-in was even earlier so that we could go directly into the city without luggage! Latifah was really adorable and greeted us with a cool iced tea. She also gave us wonderful tips about the city! We also wrote a lot about WhatsApp later, so everything went smoothly. In addition, she continued to give me very magical tips on eating out or shopping! Really an absolute sunshine! To top it all off, we were even allowed to stay 2 hours longer at the end! Just great! I more than enjoyed my stay!"
EXSIM | Expressionz Professional Suites fully furnished design luxury living style Studio suite perfect for single & couple traveler, 321 sq.ft suitable for shortstay vacation, located at Jalan Tun Razak, with rooftop infinity pool and sky scraper views, easily accessible by grab/taxi (short distance) to KL City Centre, KLCC & KL landmarks
What guests are saying:
"Just exactly same as pictures. Its just amazing and the cleanliness is superbbbbb! Even during this RMCO, the check in and check out was runnin super smooth! Adrian is very helping and he always there to help! Actually their shower space can be small pool for kids >.<"
After two months of Malaysia government movement control, we are now back for you! :) Located just nearby all major sights in KL city. Tastefully furnished with Private bathtub. Accessible to train station, local restaurants, convenience stores, hypermarket, shopping mall, cinema, pharmacies, clinics, etc. 24 hours security and CCTV monitoring to ensure your safety.
What guests are saying:
"Kiyo is literally the best host i have ever seen come across in years. She has been very helpful throughout the check-in. She provided very accurate and detailed information from check-in, local food that are accessible, info regarding the condo. The place has a restaurant and sundry shop downstairs. The unit is complete, has cooking amenities, necessary toiletries. Would definitely come back here again. Thank you."