This year's particularly popular Morandi color, a touch of low saturation color, makes me particularly fond of. It happened to be a house with a very high height, so I made this house with reference to the Monument Valley in Spain. The house has a lot of ladder elements, stairs, and color choices that have been determined for a long time. Hungarian white goose down quilt, floating latex mattress, let your sleep quietly happen. In short, there are many surprises waiting for you to discover.
What guests are saying:
"Great house, very young girl, pink Monument Valley style, very suitable for taking pictures; good hygiene, tableware and cleaning utensils are packed in plastic film, toilet is also disinfected; there is a small balcony, just to be able to dry To the sun. In short, it is a very warm home, very suitable for playing with family. In addition, the landlord sister is also very good, let us put the luggage in advance, will come again, 嘻嘻"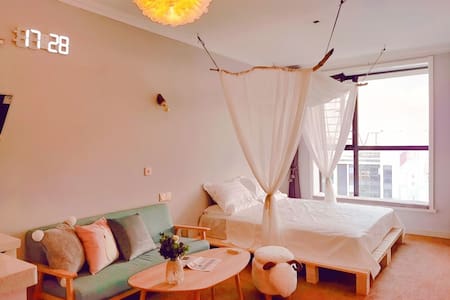 SUPERHOST
Entire apartment · 2 guests · 1 bed · 1.5 baths
梓桐民宿A secret places网红打卡拍照ins风格近泰华万达银座/可做饭/有投影
This apartment has a Nordic-Italian Renaissance theme style. The apartment is extremely private, and you can't go upstairs without an access card! It is located in the CBD of Weifang's central business district, with a small bar, dining, eating, drinking and shopping one-stop package downstairs. It is the golden triangle of Wanda, Taihua and Ginza business districts! The bule air air purifier is added to the room. It is the same model as the White House in the United States. You do n't like to open windows in winter.
What guests are saying:
"The location is great! Walking to Taihua is just two intersections! The room is not big but comfortable and the bed is soft and warm! Also very clean! Everything is also complete! It's a great experience! Have a chance to come back!"
亲爱的房客 这是我做的第七套民宿了 也是个人最喜欢的一套 除了温馨的装修风格之外 每个晴天的下午 阳光都会照进整间房子 在房子客厅的任何角落 都可以感受到温暖的阳光 屋内的每一株干花都有背后的故事 有的是情人节礼物 有的是好友婚礼上抢到的手捧花 所以请您爱护我们的故事 这间房子很适合三五好友小聚 有足够多的桌椅以及活动空间 希望你们可以在这里度过一段舒适轻松的时光
What guests are saying:
"The room is very bright and the location is super convenient! Downstairs is Weifang's busiest downtown! The host is also very nice! This time the crayfish made by myself feels great! highly recommended"