Only 8% of listings are left for these dates.
We recommend booking a place soon.
I have a lovely furnished room - available in my beautiful 125 year old 5000 square foot home 3 miles from University of Maryland Baltimore Campus (UMBC) and 2 miles to St. Agnes Hospital. The home is located in a beautiful wooded setting on an acre
The host canceled this reservation 19 days before arrival. This is an automated posting.
Kevin
2016-05-09T00:00:00Z
Faye was great. I loved the room. I would stay there again!
Courtney
2015-12-04T00:00:00Z
The host canceled this reservation 13 days before arrival. This is an automated posting.
Emily
2016-12-29T00:00:00Z
Faye's property and hospitality was wonderful. Definitely recommend it!
Melissa
2017-03-29T00:00:00Z
Room Type
Private room
---
Property Type
House
---
Accommodates
1
---
Bedrooms
Baltimore, MD, United States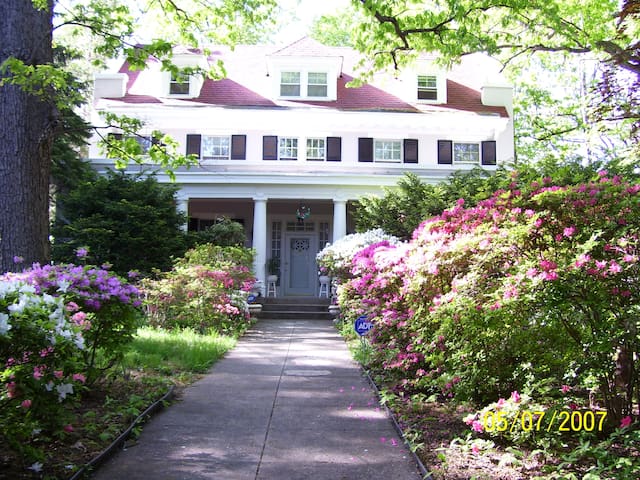 A nice room with space for a twin bed and a desk. This is for a single person only. An unfurnished room without bed. You would have: -full access to the home pictured. -wifi -washer dryer in house -stainles
I
Daniel
2017-03-31T00:00:00Z
Overall experience excellent.
Damian
2016-05-01T00:00:00Z
Moving to Baltimore and stayed a bit over 30 days with Marquett. Great communication with the host, very good host. The house was perfect for my needs. I met four great roommates during my stay. Great experience!
Dr. Thomas I.
2016-10-29T00:00:00Z
Great place. Clean and easy.
Bo
2016-08-07T00:00:00Z
He was awesome!! He made his help and advice very available while still giving me space. He is a great host.
Elise
2015-05-19T00:00:00Z
Marquett was an excellent host, went out his way to help me adjust to Baltimore. Promptly responded to any issues that arise. I would definitely recommend his place to anyone visiting Baltimore area Sincerely Rose
Rose
2015-08-16T00:00:00Z
Room Type
Private room
---
Property Type
House
---
Accommodates
1
---
Bedrooms
Baltimore, MD, United States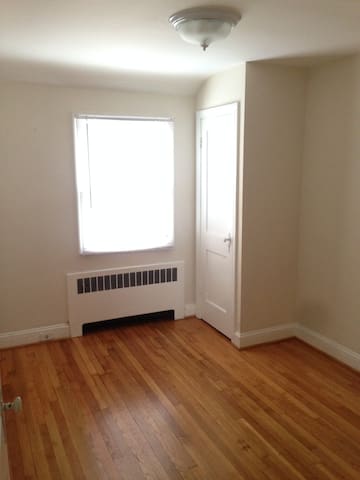 You will get all you need : furniture, fully equipped kitchen and laundry room, wireless internet. It's clean, quiet & safe; 15min to airport & downtown; 5min to Harbor hospital. Central heat/AC give you a comfortable place. It's quiet, clean, safe.
Good host.
Prashant
2017-03-31T00:00:00Z
Meet me promptly. No issues getting key to building. Was quick to respond any issues.
Chris
2016-08-27T00:00:00Z
Room Type
Private room
---
Property Type
House
---
Accommodates
1
---
Bedrooms
Baltimore, MD, United States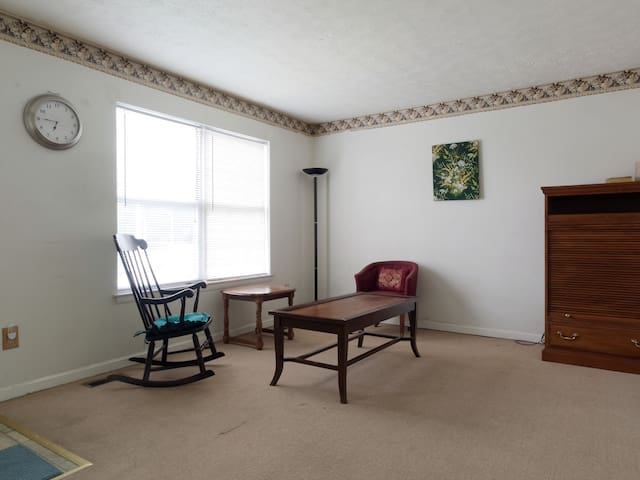 Comfortable quiet guest room completely renovated in November 2016. New additions are a Tuft & Needle very comfortable mattress, desk, flat screen tv, ceiling fan and new linens. Shared bath with host. Located 2 blocks from O'Donnell Square where there are locally owned restaurants, shops and a public park. It is a great space for a female traveling on business or pleasure. Can accommodate 2 people. Only 3 miles from Baltimore's Downtown Inner Harbor.
My home is located in the heart of Canton 2 short blocks from O'Donnell Square and 1 mile from Fells Point and only 3 miles from the Baltimore's famous Inner Harbor. My guest room is set up for a single traveler and will accommodate 2 people. I would prefer to rent to women only. My guest room has two twin beds. We are located between both Johns Hopkins Hospital and its Bayview campus. My home includes a comfortable living room, dining room, kitchen and half bath on the first floor as well as my backyard garden. There is a treadmill in the basement. We are only about 4 blocks from a portion of the Chesapeake Bay where there is a walking promenade. The kitchen is fully stocked for a continental breakfast. You are welcome to bring in your own food and use the kitchen. Please clean up when you finish. Located nearby are restaurants featuring Mexican, American, Japanese Fusion, frozen yogurt, homemade cupcakes, crepes, and of course seafood! These are all locally owned establishments! Only 3 blocks away is the Canton Waterfront Park, where you can pick up the Baltimore Water Taxi that will take you to Locust Point, home of Ft. McHenry, Fells Point and the Inner Harbor. Fells Point has many restaurants, bars, shops and a Farmers Market on Saturday mornings in the Summer. My home is located just 2 1/2 miles off Exit 57 on I-95 and only a 15 minute drive to BWI Airport. I am a long time resident of B'More and can answer many questions about this famous city and direct you to almost anywhere you would to visit. Street parking is available without restrictions.
Canton is one of Baltimore's oldest/newest neighborhoods that is located next to the Chesapeake Bay. Canton is a melting pot filled with people born here, as well as transplants from everywhere who want to live in the City and enjoy the small town feel that is everywhere.
This was the first time using Airbnb and I couldn't have asked for a better introduction. Stephanie was helpful and very friendly. Her house is lovely. The location was perfect for my daughter and me as we have family within walking distance. We felt safe in the neighborhood. Ella and Winston (her 2 Cairn terriers) are sweethearts.
Louise
2015-06-19T00:00:00Z
Stephanie was absolutely amazing, she was always ready to help us out very kind and wonderful human being. Be sure to stay with her you feel like you're at home.
Katiushca
2017-02-27T00:00:00Z
Couldn't have had a better first experience with Airbnb! Stephanie made me a delicious dinner and let me use her beautiful new kitchen to bake cookies! She kept me company while I'm away from home ands even invited me to come stay again over Christmas since I'll be away from family. I definitely recommend this property and its lovely hostess!!
Kristen
2016-12-20T00:00:00Z
Stephanie was a lovely host! She helped us when we were in a pinch to find a place and warmly welcomed us into her home. I loved how she had a basket of goodies to greet us in the room, as well as a local newspaper, and brochures about local places to visit. I would definitely visit again!
Jessica
2015-05-27T00:00:00Z
Stephanie was very warm and accommodating. She was very friendly and easy to talk to. Communication before, during, and after my stay was very simple and fast. I had an amazing time staying at her place. Would recommend to all.
Mitchell
2016-09-05T00:00:00Z
Stephanie was a very gracious host! Prime location close to everything! The home is colorfully decorated, which my daughter and I loved! She was wonderfully patient throughout the "booking" process, as it was my first time on airbnb, and I had no clue how it worked! The goodie basket in our room was a nice sentiment. Winston & Ella Bella are her two child friendly pooches. Definitely stay with Stephanie if you visit the Baltimore area! A+100 :)
Lisa
2015-03-30T00:00:00Z
Stephanie simply went above and beyond what I would expect from any Airbnb host. From picking me up at the bus depot and welcoming me with a home-cooked meal and local wine and beer to going out of her way to show me around the city, taking me grocery shopping, and making sure I had the right bus schedules and bus card, she was incredible. It's obvious that she really cares about her guests and that it's important to her that her guests are comfortable and happy. Any guest would be lucky to stay with her! My month in Baltimore was truly enriched by my Airbnb experience at Stephanie's!
Jacqueline
2015-09-13T00:00:00Z
I stayed at Stephanie's a couple nights for a business/ housing recon trip and Stephanie was an excellent host! She gave me recommendations, maps, introduced me to people my age since I am moving there alone, made me breakfast in the mornings and was just great company. Her home was clean and comfortable. Her dogs are adorable.
jacqueline
2014-11-01T00:00:00Z
Room Type
Private room
---
Property Type
House
---
Accommodates
2
---
Bedrooms
Baltimore, MD, United States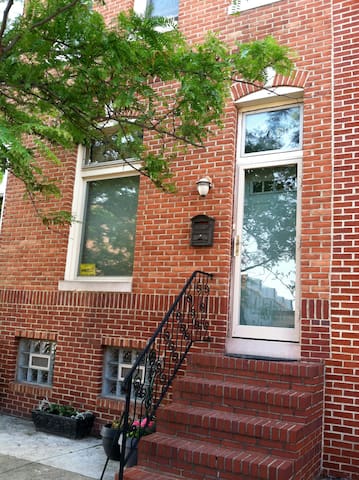 7 minute walk to the canton square, 5 min uber ride to fells point, and 30 second walk to Patterson park.
Room Type
Private room
---
Property Type
Townhouse
---
Accommodates
1
---
Bedrooms
Baltimore, MD, United States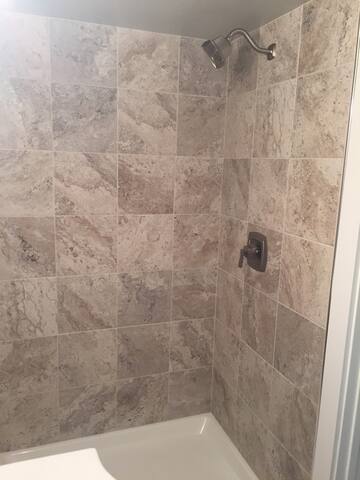 Not the most charming part of Charm City, but a clean place to crash at the end of the day! Private basement room in a quiet house. Shared kitchen & bathroom. Basic cable, WiFi, street parking. Urban inner city neighborhood west of downtown.
This is a basement room with a window and access to a patio area. This room is booked weekly or monthly. You must book an entire week even if you do not use all 7 days.
This a very urban inner city neighborhood on the west-side outskirts of the city with easy access to public transportation and downtown Baltimore. There is plenty of free parking on the street. Less expensive than some of the more popular areas but still close to downtown and no fighting for a parking space! Please review location before booking We book very easily and its on a first come basis. Please make sure you read the reviews. We are not in a hip trendy neighborhood so we are able to offer an inexpensive, and clean place with free street parking
This place had the proper facilities and a clean living area. It wasn't in the best area to go out shopping or simply check out the (URL HIDDEN) if anyone is looking for that kind of place I wouldn't recommend here. Marci was very nice and extremely helpful (although we never met) so I am gracious for that. If you a looking to walk around for groceries, meet people at local bars, and go out for a night on the town then this would not be the place you would want to stay. It has the proper facilities to live but not an environment that spells 'safety'.
Robert
2017-03-31T00:00:00Z
We stayed here for over a month while we waited to close on a house. We were somewhat familiar with the area and thought the neighborhood was safe. Most of the neighbors are hard working people who stay to themselves. The house is exactly as it looks in the pictures. We found it very cozy and clean. My favorite part about staying here was meeting new people from all over the world and across the states. During our stay we met another couple who cooked food from their traditional culture. This is a great bargain compared to hotel prices. Marci was available all the time if we had questions. We would strongly recommend this place.
Yzalia
2016-12-09T00:00:00Z
Great space. I enjoyed my stay there.
Gbenga
2017-01-16T00:00:00Z
The room was nice and clean, and beautifully decorated. The landlords were prompt and efficient in their responses and made sure that I was settled in. The toiletries and towels were a pleasant surprise. The bed was in good condition with fresh, clean bedding. There was plenty of storage space. The neighborhood isn't the best, so it's not a good idea to be walking around or going for a run, etc. However I have not encountered any problems so far when I've walked to and from work during the daytime. There is a lock on every bedroom door. And it's nice to have other professionals living here as well. I felt very much at home (inside!) and really enjoyed my stay.
Menaka
2016-06-30T00:00:00Z
My stay at Baltimore was short, but great all the same. The basic crash pad was the basement room and had a bed and tv. Marci was great and helped me out with anything that I needed. The cable on my tv wasn't working properly my first night and after I messaged Marci, it was fixed the next day before I got home from work. Since the house is in Baltimore, the area is not the best, but I still felt safe and right at home.
Kayla
2016-06-04T00:00:00Z
The room is clean and great as described in the description. Marci is very considerate and helpful, always trying to make my stay as comfortable as possible.
Hongdou
2017-02-28T00:00:00Z
Awesome place to crash in Baltimore, clean, quiet and close to the city.
Jason
2016-06-18T00:00:00Z
Room Type
Private room
---
Property Type
House
---
Accommodates
2
---
Bedrooms
Baltimore, MD, United States
This is a beautiful private bedroom in a rowhome located in the historic Baltimore neighborhood of West Hills.
The bedroom includes comfortable full size bed, personal mini-refrigerator stocked with bottled water, sitting nook, writing desk, and adequate storage space. Amenities also include WiFi, access to washer and dryer, and light continental breakfast. My home is within walking distance to public transportation and the local Farmer's market during the summer. It's only a 15 minute drive to downtown Baltimore and a 20 minute drive to BWI.
The host was very sweet and super easy to get along with. She was kind as well as her kids.
Angela
2017-01-07T00:00:00Z
Our room was wonderful, and the neighborhood was quite. Rojamie is a sweet host. Thank You again!
Ivan
2017-01-22T00:00:00Z
I felt very welcomed and comfortable with my stay. RoJamie even purchased a few of my favorite snacks to keep in the room.
Christina
2016-06-28T00:00:00Z
My experience with RoJamie is the epitome of why a service like Airbnb exists. I chose RoJamie's place because of the bright colors of the room and it's central location to places I needed to visit while in Baltimore. My flight landed early on a weekend morning. It just so happened that RoJamie was able to accommodate me earlier than her regular check-in time which was so gracious - I was so tired! Immediately upon arrival, RoJamie greeted me and welcomed me into her home. RoJamie is full of life and it is reflected in her home and kind nature. The room was perfect and spacious. I had plenty of places to store my things and not have to 'live out of my suitcase'. RoJamie has thought of everything to make a traveler's stay with her as seamless as possible - snacks, spare toiletries, extra blankets, plenty of towels. I had to study and work during my stay so the desk and Internet access made that possible. RoJamie's home is a quiet place for solace, clean and very welcoming; I can't wait to stay with RoJamie again next time I am in Baltimore!!
Dionne
2016-11-14T00:00:00Z
Très bon accueil ,confort et l'équipement moyens ,séjour sanitaire ...à partager
julienne
2016-08-11T00:00:00Z
Room Type
Private room
---
Property Type
Townhouse
---
Accommodates
2
---
Bedrooms
Baltimore, MD, United States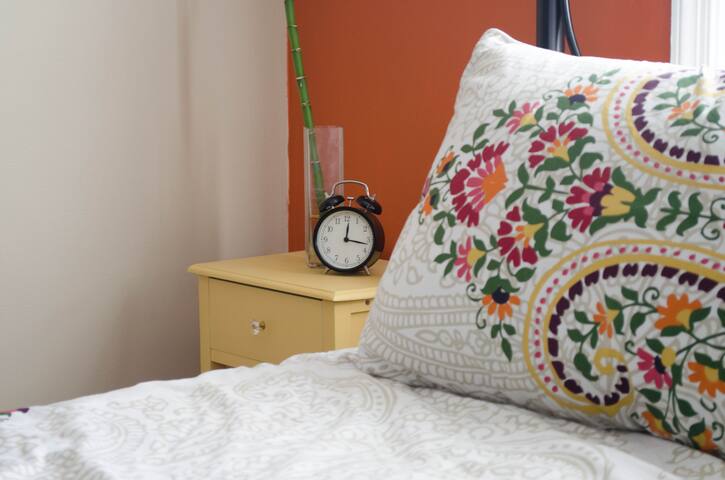 Private basement room with full bath! Access to kitchen (dining materials, fridge, coffee maker, stove) and back private patio. Close to the Inner Harbor, a beautiful neighborhood park, area schools & hospitals.
Fully furnished peaceful space with full closet and dresser. Private bathroom with stand up shower. Comfortable sheets and towels!
Close to the Inner Harbor, Fells Point, Canton. Less than 2 miles to The Johns Hopkins Hospital, Johns Hopkins Bayview, and Mercy Medical Center. Easy access to (PHONE NUMBER HIDDEN). Less than 3 miles to Camden Yards, M&T Bank Stadium, Royal Farms Arena, and The Hippodrome.
Alyssa was an excellent host and provided everything I would need. She has a beautiful room and bath in her refinished basement. It's exactly as it appears in her pictures. the neighborhood is cozy and close to the park and it was thr perfect place while I searched for my permanent residence.
Fritz
2016-11-21T00:00:00Z
I had a great stay at Alyssa's home. It was very clean and quiet and she was a great hostess. Just what I needed. Plus her place is very cute and comfy. It was conveniently close to JH Bayview Medical Center.
Sherian
2016-05-27T00:00:00Z
The host canceled this reservation 35 days before arrival. This is an automated posting.
Dylan
2016-05-16T00:00:00Z
Very cute room and bathroom and very comfortable. Perfect!
Kate
2017-04-01T00:00:00Z
This stay was my second with Alyssa. I'm a travel nurse and her home is half-way between John Hopkins Downtown and John Hopkins Bayview. Both places can be reached easily by bus (route 23 or 40). Her home is clean, cozy, and well equipped. I wouldn't think twice about staying here again.
Sherian
2016-12-22T00:00:00Z
Room Type
Private room
---
Property Type
House
---
Accommodates
2
---
Bedrooms
Baltimore, MD, United States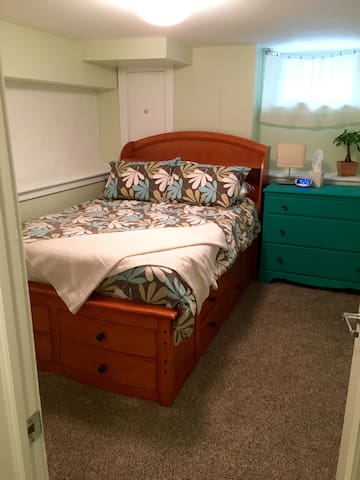 Private one bedroom furnished apartment ideal for travel nurse or someone new to the area. All utilities included. One month minimum.
Room Type
Entire home/apt
---
Property Type
Apartment
---
Accommodates
2
---
Bedrooms
Baltimore, MD, United States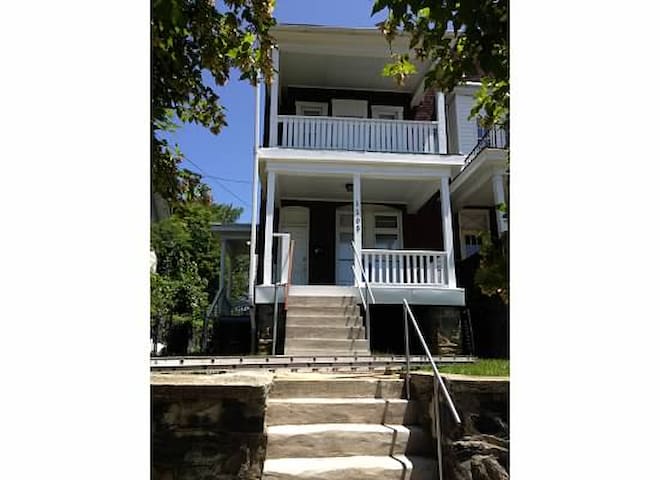 8'X8' BDRM (roughly) . Twin bed, chair. Newly carpeted. Internet/ WIFI. May use printer in the building if needed. 45 mints to Washington DC, via MARC train (3 min to West Baltimore MARC train station from building)
8' X 8' Bedroom in Baltimore city. It is a specious 3rd floor bedroom with a shared bathroom . All necessities will be supplied. Please communicate with me your need, and I will make sure that you have them prior to your arrival. Very close to all Major Baltimore city attractions.
Close proximity to Baltimore City, Johns Hopkins University Hospital, University of Maryland Medical Center, and 45 minutes to Washington DC Union station via MARC train from West Baltimore MARC train Station. Like any major city we also have few boarded up buildings int he neighborhood. I had been in this area for almost 5 years, and never had any issues. Like one of my clients mentioned, I like to see things half full rather than half empty. :)
Great spot to stay. I had no problems with the neighborhood.
Tiernan
2016-09-24T00:00:00Z
Room as pictured, clean and tastefully decorated. Ben is a kind host who is responsive to inquiries and problems as they arise. Ample street parking and all amenities you would need inside a house.
Alice
2016-01-30T00:00:00Z
Quite well received by host, even after midnight. Parked car in front of house and didn't move it for three days. Cheaper to call a cab than pay parking in down town. House and room was clean well lit and comfortable. Was only there for a few hours of rest, and a safe place to leave things. Love Baltimore, I'll be back.
J. Brian
2016-06-13T00:00:00Z
Ben was really friendly and welcoming. He went out of his way to make sure I was comfortable for the month that I was staying there. The wifi didn't work every now and then but Ben was really responsive and made sure it was fixed. It was a great stay!
Samhita
2016-07-31T00:00:00Z
Ben is a great host. He's super friendly and helpful and tries really hard to be available and communicative. He gave me a tour of the place, which itself is nice and clean. He's incredibly accommodating. The neighborhood is rough in appearance but I didn't have any problems during my stay, especially with Ben's advice for how to navigate it.
Colin
2017-02-25T00:00:00Z
For being from a rural area, not comparable to Baltimore City in the slightest bit, Ben made my transition to the city and my stay very comfortable. Everything in the descriptions is accurate to a T. Never had any issues in the neighborhood on my commute to work in Mt Vernon, however I drove. Did not personally feel comfortable with walking not knowing my surroundings, but to each his own. Overall very pleasant person, and stay. Thanks Ben!
Kaleb
2017-01-06T00:00:00Z
The host is very polite and helpful. The address is precise and the listing is easy to find, but the neighbourhood is somehow dingy. Accommodation is affordable and listing's quality corresponds with it's price.
Andrey
2015-10-11T00:00:00Z
Room and building was very clean, bathroom was clean, and kitchen has everything you need. Surrounding buildings are vacant and abandoned so no problem parking. Neighborhood not great, but good place to stay if you are passing through Baltimore on business.
Sebastian
2016-06-05T00:00:00Z
Room Type
Private room
---
Property Type
Townhouse
---
Accommodates
1
---
Bedrooms
Baltimore, MD, United States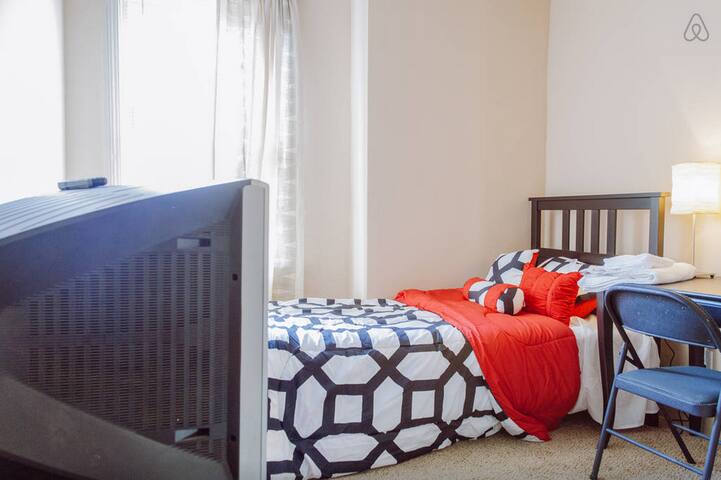 This room is bright and sunny. It is the smallest room in the house but is very popular. My seashell collection is kept here. The door can only be locked from inside (frame 2 small 4 deadbolt.) Never a problem, tho. Room is on 2nd floor next to the bathroom.
My house is in a great location and I renovated it with keeping its age in mind. All guests have a hair dryer, towels, and a gift basket in their rooms.. My neighborhood is friendly, on a quiet street and as centrally located
Great stay! I came from Jordan to have an interview at medstar union memorial hospital, which is 15 mins away walking. It was really a great experience for me to stay at Evalyn's! It felt like home! the room, the bathroom and the sheets and the towels were super clean, the bed is very comfortable, and Evalyn is very kind and ready to provide any help.
Yazan
2016-11-02T00:00:00Z
Another wonderful stay at Evelyn's place. She prepared a wonderful community meal for the guests. What a great place and lovely hostess.
Deborah
2017-01-04T00:00:00Z
I was completely spoilt by Evalyn! She is wonderfully warm and welcoming and truly goes above and beyond for her guests, plus her house is beautiful and immaculate! From her intricately decorated rooms, thoughtful gift baskets in the rooms, super soft robes and the most deliciously addictive coffee every morning. I think I was on a coffee buzz for the whole time! Its a perfect location for visting Hopkins with homewood campus a walk away and the shuttle bus on the next block. Evalyn was always at hand for help and advice and communication was fast and easy! I had a great stay at Evalyns and I cant think of anything negative but whole heartedly recommend potential guests to stay with Evalyn. We had some really great chats, putting the world to rights, but equally you are given freedom so whether your just looking for some peace and quiet, or to make a new friend-Evalyn is your host! I hope to stay in touch with Evalyn and if Im ever back in Baltimore can only hope she will want me back!
Georgina
2016-10-06T00:00:00Z
Better then a 5 star hotel. From the minute you step in you know it was the right choice. Evalyn takes the extra steps to make sure that your stay is just perfect. It actually was way beyond my expectations. Room is immaculate and clean with any and every conveniences available. I'm not a breakfast person but there is anything from coffee/tea, biscotti, muffins, eggs, bread and much much more to satisfy any one. Great house, great location minutes from JHU. The area is nice and safe and the street is very clean, incase if you were wondering. Great if you have a car as there is good street parking. Thank you for opening your door. I will definitely stay here again.
Amnon
2015-10-17T00:00:00Z
Evalyn's home was wonderful. She was out of town, but everything was in order. The house is blocks from John Hopkins' main campus. The room I stayed in is small but cozy, very clean. Evalyn provides simple breakfast food and coffee. I think this is a great place.
Eric
2015-11-15T00:00:00Z
Evalyn was wonder and flexible. She was quick to answer questions and very welcoming. Her place is beautiful and she provides everything! There's enough for a light meal even! Her cat, Handsome, is also a delight. I highly recommend her place for a stay!
Jacob
2017-03-25T00:00:00Z
Evalyn was a fantastic host. She was welcoming, giving, and great to talk to! I arrived to a sweet note and a basket of goodies. The room had everything I needed and for a great price while I was in Baltimore for a conference by myself. I'd highly recommend staying here!
carla
2016-05-15T00:00:00Z
Evalyn was super nice and welcoming, the room was great and the location was ideal. I had a great time in Baltimore in part because of this great and hassle free place to stay :)
George
2015-08-04T00:00:00Z
Room Type
Private room
---
Property Type
House
---
Accommodates
1
---
Bedrooms
Baltimore, MD, United States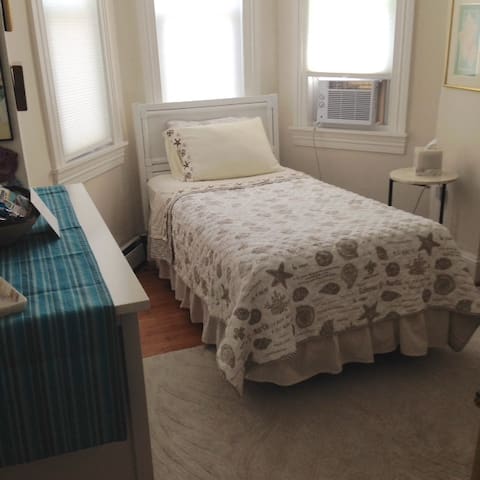 My townhouse is in a great safe location close to Morgan University JHU Loyola And other collages This home has 4 rooms ONLY for Graduate and Professional level students This house has WiFi Cable large living room and fully equipped kitchen
You will be renting one bedroom this bed room has a Queen bed and is fully furnished. The room Has cable T.V. and Hi speed WiFi is all throughout the house. All utilities are included. and you will have shared use of the rest of the house.
The neighborhood is a very safe and quiet family environment and is in very close proximity to Morgan State University just a short walk away. Also in walking distance is a grocery store and a plaza with other stores like Rite Aid.
I had a good stay here - this apartment is shared by several students from nearby universities. The room and apartment are pretty basic, but things are clean and well kept. Arie was extremely helpful and prompt in all his communications.
Rudi
2013-07-28T00:00:00Z
I had a wonderful stay in Baltimore hosted by Arie & his girlfriend. They were very welcoming & gracious. The house and room are spacious and the bed is very comfortable! Enjoyed using the fully stocked kitchen. Parking was easy so this is a great place if you have a car.
Yvonne
2013-07-18T00:00:00Z
We were in town for a weekend convention and Arie was nice enough to host my girlfriend and I. The room was clean and the bed had fresh sheets. Although we paid only a little for the room it suited our basic needs. The other tenants are college students so coming home late didn't present a problem; though, the sink was filled with dirty dishes. Arie was great, when the circuit breaker popped for the lights in our room around midnight he fixed it asap.
David
2013-08-12T00:00:00Z
Arie was a great host during my 7 month stay in Baltimore. He was very attentive and accommodating for my needs.
wenwen
2015-12-19T00:00:00Z
My stay had a rocky start with first my train being delayed and then when I reached Arie's place there was no air conditioning and the Apartment was burning hot. Since Arie was not in the country at that point, it took him 3 days to get it fixed and I spent my nights on the couch because the room was too hot to handle. After this experience however, the stay was a smooth ride except for the occasional mouse that would visit us during rains. There were a few mosquitoes that I would have loves to live without. I must say when I booked the apt I thought I was getting a steal at the price mentioned, however the apartment was not all that I expected, and I would bot have payed any more than I did. Overall the place is average and live able, nothing fancy. I would give it a 3/5 purely because of the low cost.
Raj
2016-08-21T00:00:00Z
Awesome host very communicative and friendly. Very we'll kept place and presentable would definitely stay there again.
Oliver
2013-10-11T00:00:00Z
Ariel was very professional and prompt in his correspondance. The accommodations were basic, but I slept well and enjoyed my stay.
Graham
2013-08-15T00:00:00Z
Arie is a wonderful guy. He was very helpful, and the communication about the room was perfect. He's a busy guy but he found time to come and say hello to me...which I appreciated. The room Is comfortable and clean. I enjoyed my stay at Arie's.
Mid
2014-06-27T00:00:00Z
Room Type
Private room
---
Property Type
House
---
Accommodates
1
---
Bedrooms
Baltimore, MD, United States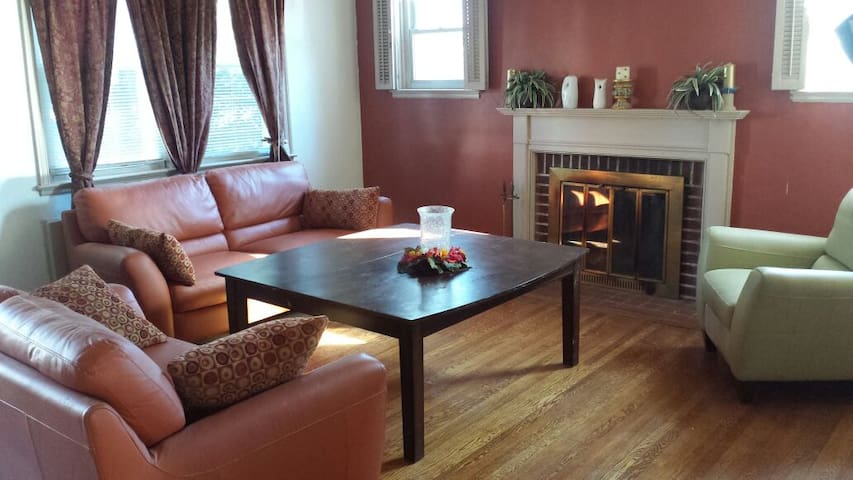 Our cool and comfortable home with exposed bricks is located on a quiet street. One block from the Patterson Park. Walking distance to restaurants, bars and public transportation. 5 mins drive to downtown.
The bedroom comes with a comfortable queen size bed, computer desk and dresser, shelving and storage for your clothes. The bathroom is shared for this unit.
I enjoy my stay at David's place. He went above and beyond to make my stay as comfortable as possible. He even helped to find parking and parked my car upon arrival (I am not so good in parallel parking). I recommend him highly.
Bernadette
2016-06-30T00:00:00Z
David was easy to communicate with via text message, and made it simple and easy to get settled in. The place is in a pretty good location near downtown, which made it perfect for a walk to any of the great nearby neighborhoods.
Michael
2016-06-26T00:00:00Z
David was the best most courteous host one could ever ask for, the space was clean and very warm. I look forward to making his place apart of my Baltimore stays. I highly recommend staying here.
Tim
2016-09-18T00:00:00Z
Staying with David felt like crashing at the home of an old friend. I enjoyed every minute I was able to spend there. Highlandtown is classic Baltimore, simple and friendly. The park is terrific. Canton's many bars and restaurants are a pleasant, safe walk. Definitely stop by Vargas Bakery -- a couple of blocks away at Gough and Highland (just follow the scent of pan dulce), it's one of Baltimore's better panaderias.
David
2015-10-12T00:00:00Z
Great place! Very nice home and room that we used was very clean. Had brochures for places to go. Very good location as well. Made coffee for us in the morning. Great host!
Shannon
2016-07-10T00:00:00Z
Wonderful hospitality. David has a warm and beautiful home. Thanks for waiting for me.
Jamie
2014-12-27T00:00:00Z
David was very kind, friendly, and accommodating. He recommended an awesome place to eat late at night near his place (called Sip and Bite). The house was very clean and cute, decorated very uniquely, and we were provided with everything we needed. The neighborhood is also very nice. Thanks for a great stay David!
Sara
2016-10-11T00:00:00Z
David was a great host. The room was perfect with everything needed for a comfortable stay. The shower had instant hot water and the home is located in a convenient location. The room was very quiet and David was very accommodating. 5 Stars doesn't do it justice!
Steve
2014-07-18T00:00:00Z
Room Type
Private room
---
Property Type
House
---
Accommodates
2
---
Bedrooms
Baltimore, MD, United States
This listing is for a small, private room, in our beautiful, airy, light-filled, cozy, modern, clean 4-bedroom home. This is a quiet, safe neighborhood, with easy access to downtown or the county by car or light rail. Easy walk to Sinai Hospital.
Beautiful gardens. Clean, modern, quiet, calm atmosphere. This is a great place to land for a few days if you are in town for business or pleasure. Centrally located, 10 minutes from downtown or the county. Very safe, tree-lined streets, with good neighbors. The room is simple and small, with a comfortable full sized bed. If you want to cook, you are more than welcome to use our fully-equipped kitchen. We have a dog and a cat, both are extremely well behaved and go outside. We are usually here, but often go out of town or are staying over at friends' houses, so if the timing is right, you might just have the place to yourself.
Awesome neighborhood! Very friendly neighbors, safe to take walks at night, lovely to sit on the porch during the day or evening. Easy access to downtown or county by car or light rail. If you don't mind a little walk, you can walk to Mt. Washington village for a coffee, dinner or a drink. Easy walk to Sinai Hospital.
Davina's is a great host. She made me feel home.. I was there to visit my relative in Sinai Hospital. Her home is around 10 min walk to the hospital.. great location and amazing person to live with
Maha
2017-02-26T00:00:00Z
Davina was wonderful, she was welcoming and very attentive to us. Her home is very beautiful and the location is perfect, not in the middle of harbor traffic but just close enough. check-in/out was a breeze. I would definitely stay again if needed. Plus her pets were a bonus!
Christine
2016-07-17T00:00:00Z
I enjoyed a wonderful stay in this warm and inviting home in a most quiet neighborhood. Davina (and Elsa!) did a wonderful job helping me feel at home.
Kristi
2016-04-03T00:00:00Z
I had a lovely stay at Davina's home. Great neighborhood and perfect start before I moved into Baltimore. Many thanks Davina.
Fred
2015-08-01T00:00:00Z
Great location (10 minutes drive from Inner Harbor, 40 from BWI), stunning house, and gracious host!
April
2015-10-18T00:00:00Z
She was a great host with a beautiful home. I would highly recommend staying here.
Jason
2015-05-17T00:00:00Z
Beautiful home, looks just like the photos plus a cozy backyard! Perfect for a quiet, relaxing weekend getaway from the city. Davina was very kind and accommodating. We missed each other during my stay, but she made sure I had everything I needed to be comfortable.
Jocelyn
2016-10-09T00:00:00Z
Had a great and quick stay! Just needed a shower and place to sleep, but Davina and her family were very friendly and welcoming and I felt very comfortable. Bed was comfy, nice bathroom, everything clean and the house is beautifully decorated. Pretty neighborhood, very safe. Had a few brief chats with Davina and she is kind and easygoing. Would stay again! Thanks Davina!
dana
2016-09-12T00:00:00Z
Room Type
Private room
---
Property Type
House
---
Accommodates
1
---
Bedrooms
Baltimore, MD, United States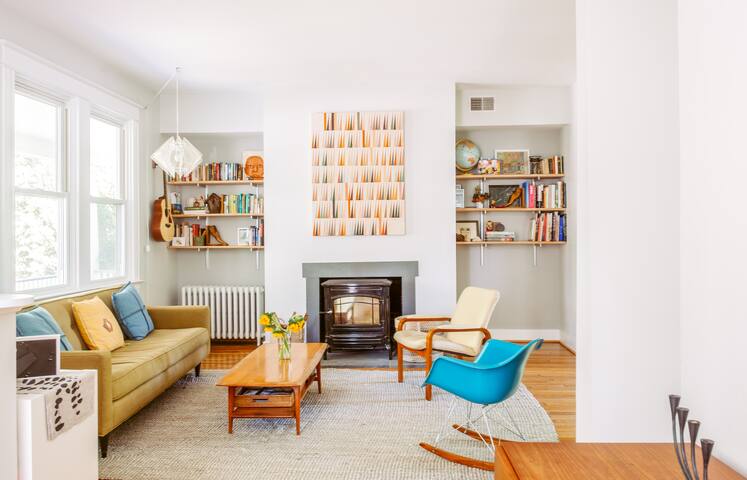 Simple bedroom available in empty home in Canton with an off street parking spot. Close enough to Canton square to walk but far enough away that you don't hear the noise. Less than 4 miles from the inner harbor and 1 mile from Greektown. Coffee and snacks available to guests in the kitchen. One of three rooms available in the house, all with a lock on the door. Help yourself to coffee and snacks in the kitchen. The bathroom is shared
The bedroom is furnished with a full sized futon. There is a coffee maker and coffee as well as a breakfast nook with a table and chairs. Three rooms in this house are available, each has a lock on the bedroom door. Bathroom is shared if there is more than one room rented. There is a futon in the room but there is currently no other furniture. The futon is thick and comfortable and folds out to a size between twin and full. Kitchen is available for use. Bathroom is shared if there is more than one guest staying in the home but each bedroom has a lock on the door.
Great neighborhood in Canton. 12 min walk to canton sq. Easy access to 95 and 895.
Comfortable, clean, modern. Perfect location for a great price! We're so glad we found this place. It was perfect for our overnight stay! Allison is a wonderful host. Thanks for sharing your home with us!
Rachel
2017-03-26T00:00:00Z
Great location! Back porch and lots of space to spread out in.
Nathan
2017-03-25T00:00:00Z
Room Type
Private room
---
Property Type
Townhouse
---
Accommodates
2
---
Bedrooms
Baltimore, MD, United States
This pristine home is in a beautiful rural location surrounded by the Gwynns Falls. The main house includes two bedrooms on the 2nd floor- 2 beds and a daybed, along with a small bedroom on the first floor. Each has a private bath. There is a private area separated from the main house where I live when I have guests. It has a livingroom with fireplace, large bedroom and private bath. This space is totally separate from the rest of the home; I often never see my guests when they are here.
We are directly across the street from the Gwynns Falls river and waterfall and Gwynns Falls/Leakin Park, while only 6 miles from downtown Baltimore. The setting is serene and surrounded by nature. Bring your bikes and follow the Gwynns Falls trail into downtown Baltimore. The village of Dickeyville is on the list of historic places, with beautiful gardens, and charming residents. Check out the website for Dickeyville. It's really magical. I will provide everything you need in terms of linens for the bedrooms, along with fluffy bath and hand towels. The home is very large and guests have access to all of it. There are two patios for breakfast in the morning and an upstairs porch for a glass of wine in the evening. All in a quiet, peaceful, dog walking community. I do live on the premises, but the spaces are large enough for total privacy if needed.
The neighborhood reminds me of an old New England Village that time has forgotten. There are street lamps, and an 'Oddfellows' home, bordering one of the largest park systems on the East coast. Most folks are very friendly, love dogs and have sumptuous gardens. Many are in the arts and display their works in the local gallery we rent on the main street. We have a pancake breakfast, Barn fire and stew cookoff, 4th of July parade and many other events every year. Very tight community.
My wife and I stayed here on very short notice due to a screw up in our plans. Mary was great, could not have been more accommodating and welcoming. Charming house in a very quiet secluded neighborhood but only a few minutes from the botanical gardens, art museum and the city itself! House was clean, bed very comfortable, balcony great, and my wife's biggest concern, the bathroom was bright, clean and shiny! Definitely would recommend staying here. Thanks Mary!
robert
2014-08-31T00:00:00Z
We had a very pleasant stay! Mary was a welcoming and accommodating host. The house was cozy but spacious enough for the 5 of us. Nice walking trails close by and a friendly neighborhood. We would stay again if we are in the area!
Laura
2017-01-15T00:00:00Z
Hi, Mary, I hope you had an enjoyable weekend in New York. It was generally quite pleasant staying at your lovely, but work-in-progress home in the unique quarter called Dickeysville.
Alan
2014-06-17T00:00:00Z
As soon as my family and me stepped through Mary's door, she made us feel welcome. My daughter absolutely adores Ms. Mary and her loveable dog Bearie. We had the entire upstairs to ourselves. The master bedroom is quite spacious and the bathroom is newly remodeled and very pretty. The house is huge and the neighborhood is a gem. It reminds me of those old New England neighborhoods. Serial podcast fans, Gwynn Falls/Leakin park is right across the street, a very lovely walk, and the Best Buy is a five minute drive. A very convenient location to all points in Baltimore City and Ellicott City. It's very close to my mom's apartment so we will stay here again!
Alina
2014-12-29T00:00:00Z
Mary's house is clean and beautifully decorated. The area our family stayed in was perfect for the 4 of us. She offered a glass of water, wine, and fruit when we arrived after a long day's drive. She gave us some advice about trails around the park, which we really enjoyed. The whole experience at Mary's house was wonderful.
Liz
2014-08-17T00:00:00Z
The host canceled this reservation the day before arrival. This is an automated posting.
Chris
2016-05-18T00:00:00Z
We had a great stay with Mary. The only problem that we had was that the place is listed as an "entire place". Mary lives in the house and was there the entire time. She even hung out with us in the living room. Not saying that she was unpleasant, just that when you boom an "entire place" I expect it to be an entire place with privacy. That is why I select "entire place" and am willing to pay more for that privacy. I kind of feel cheated that she does not disclose that she lives in the house and will be sharing the common spaces with the guests. That would have effected my decision to stay at this Airbnb.
Mike
2017-01-20T00:00:00Z
Everything about our stay was great! Mary made us feel welcome from the moment we arrived. The accommodations were clean, comfortable and relaxed. The village neighborhood is super cool and an added bonus is its location right on the Gwynn Falls trail. Would definitely stay here again!
Joe
2016-06-06T00:00:00Z
Room Type
Private room
---
Property Type
House
---
Accommodates
6
---
Bedrooms
Baltimore, MD, United States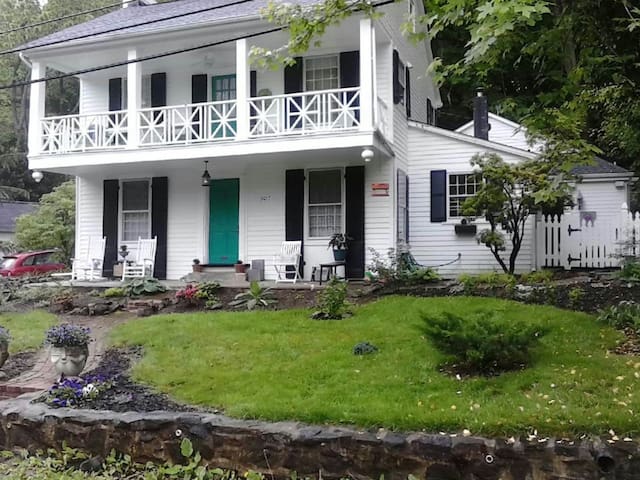 Explore Baltimore from this newly renovated, 1920's brick rowhouse. Between the spacious main floor common areas (including a back deck) and beautiful loft master bedroom, you can spread out and make yourself at home. You'll be in the heart of Baltimore and can easily explore the city. The rowhouse is just blocks from historic Johns Hopkins Hospital and a mile from popular destinations Fells Point, Patterson Park, and Mt. Vernon, with the free Charm City Circulator available a block away.
Room Type
Private room
---
Property Type
House
---
Accommodates
2
---
Bedrooms
Baltimore, MD, United States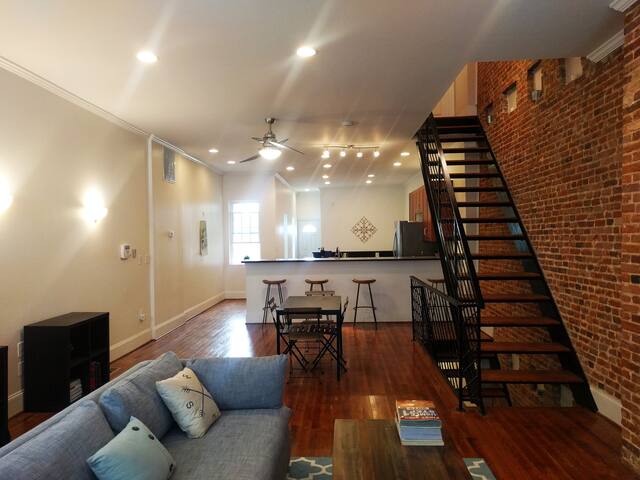 It is a comfortable and quiet room on the second floor. You have a window to the back yard and a large closet. The house is wall to wall carpeting and fully furnished even in kitchen. You share the full bathroom with other two people. You'll love it
It comfortable fits two people. The parking is free on the street.
The neighborhood is quiet, clean and friendly.
Nice comfortable room located in a nice and quiet house. Guaranteed to have a nice night of sleep.
Cristian
2016-06-02T00:00:00Z
Room Type
Private room
---
Property Type
House
---
Accommodates
1
---
Bedrooms
Baltimore, MD, United States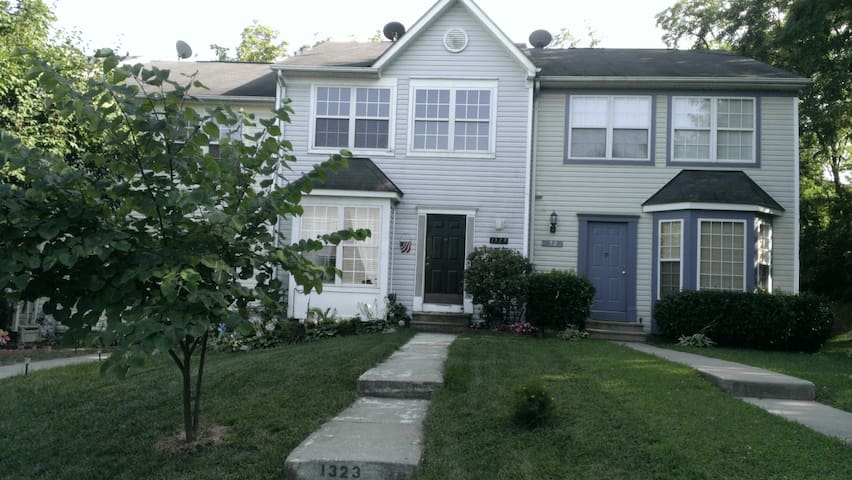 Baltimore - Airbnb
:
Average

4.77

out of

5

stars from

247

guest reviews
Additional fees apply. Taxes may be added.