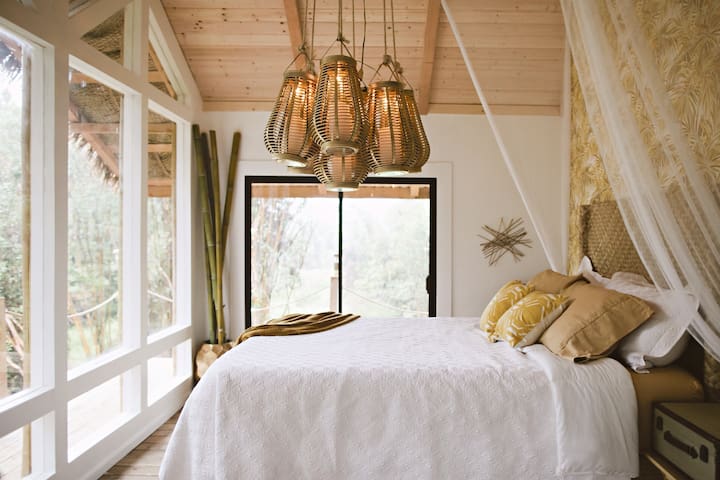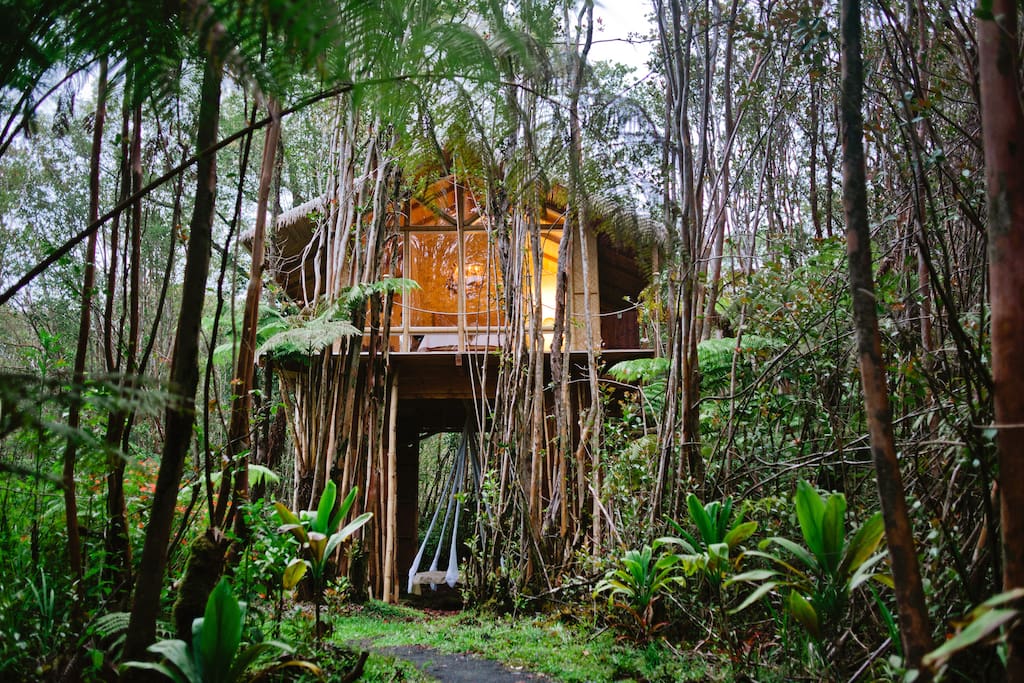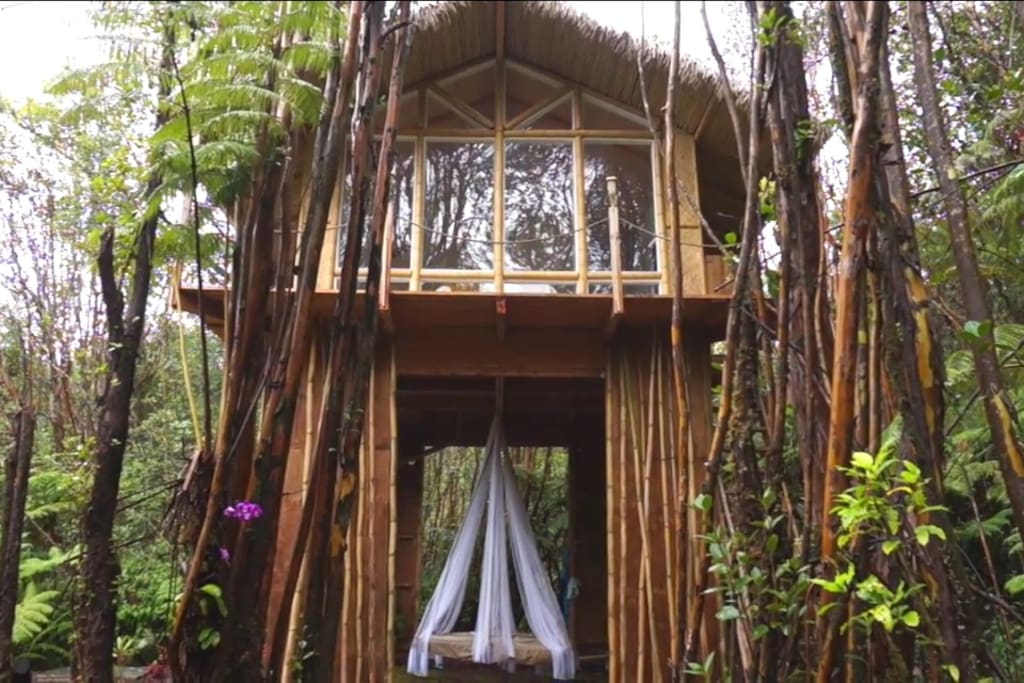 About this listing
Red cinder leads you through the dense jungle to your secluded bamboo treehouse. Nestled on top of stilts 15' up in the canopy of the local flora, ascend to your retreat via the trapdoor or begin your adventure in Volcano National Park 10 miles away.
---
---
---
Red cinder leads you through the dense jungle to your secluded bamboo treehouse. Nestled on top of stilts 15' up in the canopy of the local flora, ascend to your retreat via the trapdoor or begin your adventure in Volcano National Park 10 miles away.
Upon arrival, let the red cinder path be your yellow brick road as you are lead through the jungle to your personal paradise. At ground level you will encounter a hanging bed, suspended beneath the floor of your new living quarters. Stop and relax or continue up the staircase to the trapdoor.
It is through this trapdoor that you are allowed access to the lanai amongst the canopy of trees. A beautiful wrap around lanai allows for a 360 degree view of the lush jungle, while two sliding glass doors grant access to the bedroom.
Upon entering, you will notice that the generous windows and doors allow for natural sunlight to flood into the house, complementing the bamboo fixtures and vintage 1970s wallpaper that backs the bed. The white bed linens reflect the light giving a dreamy, cloud-like aura to the space.
There is counter stocked with a local coffee and snacks nestled into a corner of the house and overlooked by the handcrafted porthole windows. Bamboo backed cubby holes and hangers furnish the wall behind you and create an elegant, minimalist closet space for you to store your personal items for the duration of your stay.
Just past the closet is a sliding door that accesses one of the most fun areas of the house: the bathroom. The bathroom jalousie windows stretch from the floor to the ceiling and the horizontal glass plates open up, creating an indoor-outdoor effect. Naturally caught rainwater cascades from the large shower head above before disappearing into the floor boards below. You'll notice that the natural theme spills over into the bathroom with sustainable cork board backing the shower and air plants intermittently growing throughout. The toilet and hand-made rock sink in the corner make use of grey water eco-principles by allowing you to wash your hands with fresh water before it goes on to fill the bowl.
One of the most fun aspects of this property is that it allows you the opportunity to experience true off-grid living without sacrificing any of the comforts of normal life. Natural lighting, solar power and rain water catchment are the three principles that have been integrated into this tree top design, making it almost like a living organism itself.
The beauty of this high flying haven is in the details. I spent the better part of three months personally constructing the building as well as the accessories inside. My goal was to create a customized and secluded space for your occasion. The chandelier, hanging lights, port-hole windows, rock sink and platform bed were all DIY projects that I specifically created to enhance your experience. The bamboo pillars that 'support' the lanai and the moss carpet under the hanging bed were harvested from local areas on the Big Island.
IMPORTANT CONSIDERATIONS BEFORE MAKING A RESERVATION
Don't worry, the capital letters are just to emphasize importance. I'm not mad at you. But please read this entire section before making a reservation.
As lush and inviting as the Dreamy Tropical Treehouse is, there are inevitable 'challenges' that come with staying in an off-grid treehouse in the Hawaiian jungle. My goal is give you an experience that combines adventure and luxury so I want to make sure that you are aware of the following things:
1. The treehouse is about 15-feet off the ground and is only accessible by the 'ladder-stairs'. 'Ladder-stairs' is just another way of saying 'very steep' stairs. There is a hand railing and none of my visitors have ever had a problem going up and down, but all luggage will need to be carried up via this access point. Only those who believe they are physically capable should book a stay. Just remember to go up and down facing them... like a ladder!
2. The running water comes from the rain falling on the roof and is not treated; therefore, the water is not potable. I will provide several bottles of drinking water.
3. The electricity you use is generated by sunlight and is stored in a battery. Once the battery runs out of power it has to recharge. This shouldn't happen but just be mindful not to leave lights or power hungry items running for extended periods of time (mo hairdryers). The windows allow for plenty of light during the day.
4. This is the rainy side of the Big Island so expect some showers! Realize that the pitter-patter on the roof is the rain's first stop on its journey to the water tanks and then to your shower. Also notice how warm it is. Don't think of rain as a trip ruiner but instead an asset to be enjoyed!
5. There are bugs but this isn't the Amazon. For such a tropical climate you will be surprised at how few bugs there are. The main things you will see are moths, fruit flies (due to fruit falling off of the trees) and mosquitoes. Bug repellent is provided but it never hurts to bring your own. They really don't get that bad but their presence increases after a hard rain and during the twilight hours. Luckily, the hanging bed has mosquito netting that drapes down to encompass it.
6. Noises. Living off-grid in the jungle also brings about its own set of noises. The water pump and solar inverter will make soft noises throughout the day as they are used. The falling fruit from the vivie trees can also be alarming if you don't know what it is, and at night you are going to be serenaded by the sweet chirping of coqui frogs. Rustling branches, grunts and squeals typically means that the cute family of wild pigs is nearby. They are harmless and will runoff as soon as they sense your presence. Quietly grab the binoculars and, if you are lucky, may catch a glimpse of them!
All of these aspects are what makes this place so unique and, with the right mindset, only enhance your overall experience.
Guests have free range to fully utilize every aspect of the house. The hanging bed, wrap-around porch, indoor-outdoor shower and closet are at your full disposal. I have recently installed a kitchenette that has a sink, cooler for storing food/drinks, and a coffee maker (also capable of heating up water). Any and all goodies stocked in the house are there for your enjoyment.
Here is a more comprehensive list of amenities and features that will be available to you:
•Indoor/Outdoor Shower
•Toilet with Overlaid Sink
•Organic Shampoo/Conditioner
•Towels
•Ample Parking
•Tiki Torch 'Flashlights'
•Hanging Bed
•Table and Chairs for Lanai
•Binoculars
•Several Books
•Outlets (3-prong and USB)
•Kitchen Sink
•Coffee Maker
•Clean Linens
•Gramophone Music Player for iPhones
•Cooler for Food/Drink
•Card Game

Guest interaction can be tailored to your needs. My goal is to make sure your stay is unforgettable so you can always contact me via phone or email. Because I do not live on the island year round, a local neighbor can assist you if you have any problems that need tending to. Upon your arrival I can arrange to have someone greet you and show you the property or simply stow away the key for your convenience. The choice, of course, is yours.
Even though I am not on site, I can always be reached. Feel free to call/text/email me at any time during your stay should the unlikely event that a problem arises. I will immediately contact the proper authority to have the problem remedied.
The treehouse is located at the end of a neighborhood street making it very private. It is set about 50 yards off the street behind a windy, jungle path further adding to your privacy. There are only about five full time neighbors scattered throughout the neighborhood so don't expect to see a lot of people.
The treehouse is about 20 miles from Hilo, 23 miles from Pahoa, 12 miles from Keaau and 8 miles from Volcano. Volcano is the closest place for laundry, good restaurants and groceries, though you will pay a little more for the groceries than in Hilo or Keaau. I recommend you stop on your way in from Hilo. When you book I will include a guidebook that has the locations, hours and prices of local restaurants and grocery stores.
There is quick access to highway 11 and it is 10 miles from Volcanoes National Park. Numerous opportunities for sightseeing and adventures are within a 40 minute drive of this treehouse paradise and they will be included in my guest guidebook as well.
This is the ultimate spot for couples seeking romantic seclusion in the middle of a tropical jungle or individuals who want to escape the world.
Unless you feel like hitchhiking, you will definitely need a rental car to comfortably explore the surrounding areas and acces