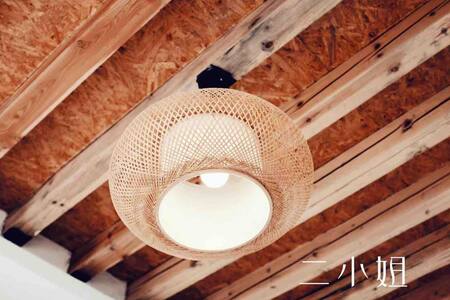 SUPERHOST
Room in boutique hotel · 2 guests · 1 bed · 1.5 baths
【丽江古城】【二小姐客栈】【希望你也在这里】【一楼超舒适飘窗大床房】从前的日色慢,车、马都慢。
亲爱哒您好!咱们这个房源在丽江古城里,但是没有在特别中心的位置,这也让您的休息会安静很多。咱们家主店一共八个房间,您看的这个房间在一楼,面积大约有二十五个平方左右。独立卫浴,高档电视,独立Wi-Fi,空调,电热毯一应俱全。请您放心入住哦
What guests are saying:
"The warm and kind Miss II, the humorous Dragon Brother, the younger brother who pretends to be "mature", and the small and handsome family hhhhhhhh. It is really the most homey homestay I have ever lived in! When we first came to the Miss Two Inn from Dali, Miss Two learned that we were unfortunately sunburned in Dali and immediately bought us aloe vera gel for us to apply. Every time I come back to Lijiang scenic spots, Long Ge and Miss II will give us tea and prepare a variety of snacks. Because Lijiang is very hot, Miss Two will also prepare mung bean soup and white fungus soup in person. If there is a tenant in the room, they will also deliver it in person. Moreover, I feel that Miss Er is hiding a large treasure chest of snacks. Every time, different snacks are handed over to us, I feel that staying at Miss Er's house, the meat has been developing rapidly (no, it should be "long body" "
Our yard is located on the Lion Rock in the ancient city of Dayan. It has a wonderful viewing experience. The quaint Naxi small courtyard and the traditional Naxi residence are a wonderful start for your trip to Lijiang. It takes 1 minute walk from the yard to Mufu, 2 minutes walk to Bailong Square parking lot, 5 minutes from Square Square and Bar Street in the ancient city center. The inn can enjoy the whole picture of the ancient city at 360°. The ancient city of Dayan is the epitome of Lijiang culture. You can learn about a city from a story, a movie, a song. If you want to feel the immersive feeling of Naxi culture, you may wish to enter our yard. We can't promise your highest-end hardware facilities, but we promise to give you a 5-star service. We value the feelings and experiences of every guest. We look forward to our service to make your trip to Lijiang a meditation tour!
What guests are saying:
"The inn room is very clean and the courtyard is very chic. You can see the sky above the ancient city directly outside the room. It is a place suitable for daze. The road in the ancient city is not easy to go. Qiang Brother will drag us a small cart to help us pull the luggage to the inn, and then move it to the room (very intimate). After returning to Yulong Snow Mountain the next day, we immediately flushed us with brown sugar water, service attitude It's really good, there are delicious Puer tea every day, drink tea to get back to the original, as well as fruits and snacks (fruit is sweet, snacks are delicious) The inn's chief customer service strong brother also recommended us to go to the bar to play ,very happy! The inn's owner, strong brother, and people living in the inn are fun, sitting in the inn every day, drinking tea, chatting, and not going out to play. The inn's atmosphere is superb, and the boss's toilet lid is accidentally damaged by the boss. We are hesitant to compensate, in short, highly recommended! ! !"
(注;如果房源当天日期满房,可点击房东头像下滑看更多房源总有一款适合你。)位置;200米到古城主干道 五一街,十分钟到中心四方街, 户型;独立花园纳西庭院。 装修;纳西风情与热带雨林风格相结合,房东亲自设计,家具由房东亲自挑选。 设施;家具家电齐全,无线网络。 服务;机场火车站收费接送,赠送旅行地图,代购车票,附近100米有收费停车场(URL HIDDEN) 附;家有萌宠两条,金毛与小泰迪。
What guests are saying:
"The location is very good, easy to enter and exit. The room is clean and the environment is quiet. It is very comfortable to sit back in the small courtyard after shopping, and the dogs are also cute. The landlord is very helpful and enthusiastically helps to book tickets and cars. recommend!"