The room is located on the top of Gangding subway station, close to the BRT bus line and convenient transportation, adjacent to South China Normal University and Taikoo Hui of Jinan University. Many mature business districts in the surrounding area can be reached within 10 minutes on foot. The sofa area inside the room was changed to a tatami cushion, adding two lazy sofas and a woven swing are very comfortable. Equipped with a 300-inch nut projector, it is very convenient whether it is a mobile phone screen or online viewing. The bedroom area uses a full set of IKEA products, and the mattress is comfortably equipped with a 60-piece cotton four-piece suit.
What guests are saying:
"The location is really great! Then the decoration is the same as the photo ~ Tatami is very comfortable, it is very cool to see the variety show on the haha It is also very close to the subway entrance"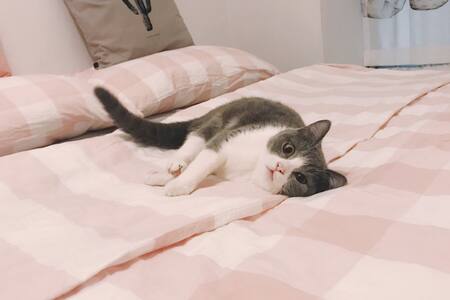 SUPERHOST
Private room · 2 guests · 1 bed · 1 shared bath
「有猫的日子」珠江新城|暨南大学|红砖厂|天河软件园|员村山顶|员村地铁站有两只猫和大花园的独立房间
My specialties: girl style room + double licking cat + private large garden "Little Family Overview" My home is a cozy apartment with two bedrooms and one living room. It has a private outdoor garden and the garden is full of flowers and plants~ There are two shameless soft cats in the house, not afraid of being born, close to people, supporting sucking operation~ I live in the master bedroom and you will be staying in the second bedroom~ The second bedroom is decorated in a girly style with a comfortable big bed and a practical desk. I have prepared a lot of special items for you~ "position" My home is located in Huangpu Avenue, Tianhe District, close to Jinan University, which is a bustling city center. 5 minutes walk to the large supermarket, 8 minutes walk to Jinan University, 20 minutes drive to Huacheng Square, Tianhui Square, Tianhe City, Zhengjia Square, sports center and other famous business districts "traffic" Subway: The nearest subway station is Line 5, Miancun Subway Station, about 15 minutes walk. Bus: 2 minutes walk is the village bus stop of the village, up to 40 buses, extending in all directions.
What guests are saying:
"The host is very good, and the use items provided are also very intimate. If you have any questions, ask the host, and the host will also answer the question enthusiastically. The location is not biased. You can walk to the subway for 10 minutes. The cat is super cute! ! ! I will stay here again next time I go nearby! !"
HELLO! GREAT 2 SEE YOU ! ·Due to local policy reasons, I will not accept foreign guests, sorry. Due to local policies, we cannot receive foreign guests for the time being. Sorry | In order to cooperate with the local residents' committee, the ID card must be provided one day before the check-in | ·B&B Transportation Airport: Subway 59 minutes by car 43 minutes South Station: Subway 31 minutes by car 27 minutes East Station: Subway 31 minutes by car 20 minutes Railway Station: Subway 20 minutes by car 20 minutes ·Nearby Attractions 1. Metro Line 2: BC Beijing Road Snacks Haizhu Square Toy Boutique Wholesale Market, Shishi Sacred Heart Cathedral 2. Guangzhou Tower: 27 minutes by subway 3. Yongqingfang: Bus 43 minutes 4. Sand surface: subway 34 minutes 5. Chimelong Happy World: 41 minutes by subway 6. Chimelong Wildlife Park: 51 minutes 7. Thirteen lines wholesale market: 30 minutes by subway
What guests are saying:
"The second time I stayed in Gao's homestay, it was still my favorite style, and aromatherapy was also very comfortable. However, it is slightly smaller than the first toilet, and the door will not be locked until I wait a few times, which caused me to think that I closed the door several times, but the result is not. It is recommended that other guests check in and directly lock it will not appear. I am in this situation ~ There is a horse killer chicken near the intersection that is also super "