❥❥疫情期间,应当地政府要求,湖北籍宝宝预定房间前请提前咨询呦~ 因同类型房源较多,风格类似,相同户型随机排房,请理解,有特殊喜好,请留言,尽量满足 推开褐色的木门,来到蔚蓝色的屋内,感受房源独特的安逸与舒适。木质地板与藤制花盆带出淳朴温馨的感觉,一棵棵绿植更是为房源增添了生气。坐在蓝色沙发上,与小黄桌和唯美的墙壁挂画拍数张照片留念。夜晚,到全景落地窗前观望华灯初上的城市夜景。 【 地理 】房源位于渝中区,前有长江,后有十八梯、山城步道正所谓依山傍水好不惬意,临近解放碑(步行10分钟),山城步道(步行1分钟),长江索道(7分钟),朝天门(9分钟),洪崖洞(步行15分钟)等景区 【 交通 】步行5分钟至轻轨站(较场口站),双轻轨(1、2号线),交通便利,四通八达,可提供公交卡 【 配备 】100M光宽带WiFi、佳梦床垫、蒙娜丽莎卫浴、24小时恒温热水器、变频空调、牙膏牙刷梳子、祖马龙洗发水沐浴露、纯棉定制四件套、飞科吹风机、拖鞋、针线包、雀巢咖啡等,一切免费供应 【 安全 】房源有停车场方便您停车,大厅24小时保安巡逻,确保您的入住安全 【 便利 】房源周边配套银行、24小时便利店、药房、火锅店,日常生活需求非常方便
What guests are saying:
"The design layout of this room is very good, and the decoration style is relatively warm. The location is also very convenient and the room is relatively clean. The main reason is that the homeowner has a very good attitude and is very enthusiastic. recommend"
If there is no room for the date you see, you can click on my avatar to view all the listings. I am a potato, warm and romantic, Virgo, insist on the control of every detail, and strive to bring you the most comfortable experience. The biggest feature of the French Fries Nest is the whole large floor-to-ceiling window! Located on the 22nd floor high-rise, the sight is very good, the night view is beautiful, the Scandinavian design is simple and romantic, the main comfortable route, lying on the lazy sofa to see the projection, the window is the Jiefangbei city starlight ...
What guests are saying:
"The landlord sister is super nice and enthusiastic. The location of the house is also very good. Basically I want to go to walk. In the days when it rains, it is very comfortable to watch movies and eat in the small nest. I have the opportunity to go to Chongqing. I must choose This one!"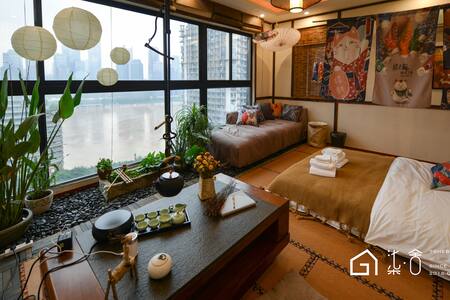 SUPERHOST
Entire condominium · 4 guests · 2 beds · Half-bath
【安心住】【竹里·清和】全景落地窗超赞一线江景房/解放碑中心/洪崖洞地铁站近在咫尺
If this cottage is full during your travel time, click on my profile picture to see more listings. Awesome first-line river-view cottage with large floor-to-ceiling windows, panoramic views from the Jiangbeizui CBD to the Huanghuayuan Bridge, and you can also see the Jiajia Wharf, the most popular nightlife gathering spot for locals. The cottage is close to landmarks such as Hongyadong, Jiefangbei, and the Great Hall of the People. It takes only 5 minutes along the riverside walk to reach Hongyadong, and a 15-minute walk to the center of Jiefangbei. It is a convenient 10-minute walk to Linjiangmen Station and Linjiangmen Bus Station on Metro Line 2. If you like good food, there are many foods nearby, including Sichuan specialties, as well as various special snacks scattered in the streets waiting for your discovery. Male landlord Yan is an ancient architecture designer, an otaku, and once participated in the design of Ciqikou. I am more fascinated by traditional Chinese culture, like straw tanks, carpentry, photography, etc. The landlady likes to explore and is a member of the Chongqing Cavern Association, like flower arrangement and tea art. Looking forward to meeting wonderful friends here!
What guests are saying:
"The room is quite good, but the river view is not very good, there is a house blocked, there is only one toilet, four people are not particularly convenient to line up, ps: traffic is quite suitable, not far from the scenic area, and the nearby roads are There is no way to close the road. It is not like living in a place too close to the scenic spot. When the holiday is closed, there is no way to drive in. There is also the opposite side of the noodle! ! !"