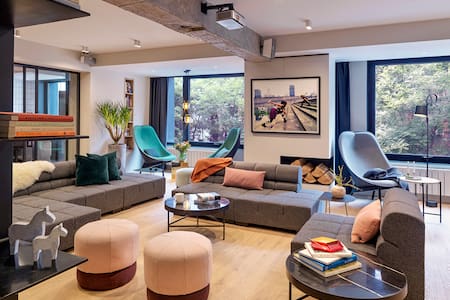 SUPERHOST
Entire apartment · 2 guests · 1 bed · 1 bath
Flexible & Discounted Long-Lease Hutong Studio@WFJ
Stey-Wangfujing is a home, a diverse and vibrant community, and a boutique hotel designed by a group of edge designers. Conveniently located in one of Beijing's oldest and most storied neighbourhoods, Stey-Wangfujing is a superbly refurbished building. It offers the best city-center location with quick access to all that Beijing has to offer. Live here, enjoy our specially curated events, clean air, fusion food, bar and the company of cool neighbors.
What guests are saying:
"The room is really great, the location is also excellent, quiet. Right next to Wangfujing, so as not to drink any drinks, the decoration style is also very advanced. Although it was a bit bad during the stay, the young lady at the front desk also changed our room very intimately. I will stay again next time."
Need to rent more than 7 days! Good location, comfortable and cost-effective choice. For cost reasons, each additional guest charge will increase 55 yuan / day, please confirm the number of occupants. Provide one-time cleaning before check-in, the bedding will be changed for each guest. There will be clean sheets hung by the cover on the balcony, the above can not accept do not book. "Desire" is the name of our little family. It originates from the homeowner's love for thousands of years of Buddhist culture and Chinese thought. To give you a thoughtful cultural and artistic sharing of souls on your journey is the sincere intention of the "Desire." Xiaojia is located on Puhuangyu Station, a subway hub, only a few subway stations away from Tiananmen Square, Guomao and Beijing South Railway Station, and only one station away from Tiantan Park. This is a 30-square-meter one-room apartment. The post-modern minimalist decoration style allows you to feel the atmosphere of urban culture. The open kitchen, with air conditioning, washing machine, and simple kitchen utensils, you can simply cook some food, hoping to give you a trip, a feeling of home, let you relax. The room also installed a whole house direct drinking water purifier to give you clean drinking water. The use of linen and disposable items in a four-star hotel in the room will definitely give you a great value for money. The hotel-level housekeeping service will also clean the room clean and hygienic. There are also convenient Starbucks around the room, most banks, restaurants, movie theaters, Wumart Supermarket, and airport bus to the station and Fangzhuang Sports Park, all within less than ten minutes walking time. Let you fully feel the convenience and prosperity of the Imperial City. Whether you are staying for a few days or staying for a long time is still a good choice.
What guests are saying:
"The price is really high, the subway station downstairs, the supermarket restaurant next door, but the corridor lighting is not enough, the room is far from the elevator, you can ignore it, except for the shower head and the scale of the kettle in the shower room, I hope the landlord can improve as soon as possible A moment, everything else should be available. Especially praise the landlord for having a toilet pad. I do n't need to use the toilet pad once. I just sit a bit cold. The room is very comfortable. The rest is quiet at night. On the door. There is an automatic incense dispenser, which will "squeak" at intervals. At first, I thought it came from the bathroom, so let everyone wake up, otherwise I always wonder why it is strange. In addition, the landlord is also very good at speaking, and I will inform you of the check-in It is very timely to have comments and requests, and it is great! I'm looking for him next time I go to Beijing Xi'an"
Peiping Daily |北平日常 身处北京闻名的旅游景点鼓楼旁,因为能感受到胡同中的浓厚北京居民生活氛围,名北京日常。周边在外畅游一番后,回到这间以黑色、白色及原木色设计的房源好好休息。与同伴一起坐在客厅的实木沙发上一边聊天,一边回顾刚才所拍下的照片,配备汉斯格雅及Duravit的浴室为您提供舒适洗浴消除疲劳。卧室配套蓝牙音响、智能投影电视、加湿器及空气净化器,拥有4扇落地窗,躺在舒适的乳胶床垫及羽绒枕头上既可观赏到胡同绵延的瓦屋顶,地道而不失舒适的胡同居住体验为旅程增加一份特别回忆。
What guests are saying:
"A very classical Hutong I would say. Love the place. Shame that my stay was hugely affected by the coronavirus outbreak - and the check-in process was not the most welcoming. Almost turned away by the host 😂 Would love to comeback anytime after the disease is over."